German Shepherd Dog
TRUE HAUS KENNELS
TOP QUALITY !
QUALITY ISN'T EXPENSIVE..... IT'S PRICELESS!!

since 1968


We take a lot of pride in our puppies, and guarantee them 100% to be healthy, to have a stable temperment, to be what you were looking for ..... or we will replace them, up to 4 years of age
(Our guarantee is void if you spay or neuter your puppy before the age of two years.)

All of our puppies are sold with full AKC registration.
Effective 1-15-2015 Male and Female puppies will cost $1400.00 for bi-colored or all black, $1800.00 for sable colored puppies plus shipping.
Puppies need to be paid for in full at 5 weeks of age.
See shipping cost below.
FOR PICK OF ANY LITTER PLEASE CALL OR EMAIL FOR PRICE.
Pick puppies need to be selected by 7 weeks of age so we have time to select the other for the people waiting.
All other puppies will be selected by Jim to fit what each client has told us they are looking for.
To view contract &nbsp
CLICK HERE
Deposit & selection info &nbsp
CLICK HERE
We also offer money back to those people that buy 8 week old puppies and title them.
$50.00 refund if your puppy receives its CD title or SDA P1, PD1
info on CD title click here
$50.00 refund if your puppy receives its AGILITY title
info on agility title click here
$100.00 refund if your puppy receives its Schutzhund 1 title
info on Schutzhund 1 title click here
$100.00 refund if your puppy receives its Police Dog certificate
you have to be an officer to receive this title
$1000.00 refund if your puppy receives it's "SCHUTZHUND 3" title.

Puppies can be shipped by air at 8 weeks of age
California sales tax included when required

These are extra expenses required on ALL puppies that have to be shipped.
health certificate ($30.00), crate ($50.00), air fair approxamently. ($275.00) if we can ship with United air lines, more if we have to use Delta or others.
transportation to airport ($50.00), approxament total shipping charge ($405.00)
We keep an ongoing waiting list for our litters.
We require a $300.00 non-refundable deposit to be on our waiting list.
Balance due at 5 weeks of age, in order make arrangements for shipping. You can make payment by check but it must be made out to James Reed.
Or for your convenience of payment you can use PayPals system. Simply click on the PayPals button below.
But as PayPal has raised it charges to us we will now have to have you add a 4% charge to any amount you are paying by PayPal.
All deposits are non-refundable, if a puppy is not available you will be moved to the next available litter.
This will lead you directly to PayPal's secure payment screen.
Please email or phone us for availability before placing a deposit, thank you.

---
We are oftern asked about crate training so we have added this information &nbspClick Here

---


Back and Clara litter due 11-4-2016
This waiting list if full
BACK SLOWAKIA IDOL

BH, ZVV1, IPO3, APr1, CD, GN, CDX, CGC, FO, P1(H), P1S(H), PD1,P2(H), PD2
code from korung done in Slovakia 5V5/55 this is the best rating a dog can get
hips a normal, elbows normal
Black Sable
SUNCHO# 62965/11
tattoo-Nr. S62965
AKC # DN42323301
Date of birth 1/20/2011
height 26 inches, weight 85 pounds

Strong black sable with massive head, outstanding expression with world-class performance abilities .
Great proportions, good top line, powerfully built front and correct angulation with firm back. Athletic and quick to do anything asked of him.
True working character with great desire to perform. Shows an excellent relationship with his handler in obedience with reliable fast reactions to the commands.
Steady and sure, impossible to find fault, always full of self-confidence with nerves of steel.
Shows impeccable manners inside and outside, loves children and has no interest in other dogs.
Totally non-threatening character unless challenged.
Back's sire is the well know:
V HANK VOM WEINBERGBLICK
No other dog has ever accomplished what he has - winning the German Championship, the 7 Laenderwettkampf three times,
and then reaching the pinnacle by winning the WORLD CHAMPIONSHIP 3 Times in a row.
This has never been done before, and will most likely not be done again anythime soon.

BACK'S PEDIGREE

This is one of our Back and Brook's pups BADEN click here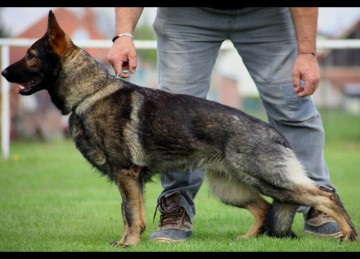 Clara od Policie Ceske republiky
ZVV1 BH
AKC# , SDA#
Hips 0/0, elbows 0/0
Date of birth: 5-16-2013
Sable
height 24 inches
weight 65 pounds

Broad and powerful head with captivating expression. Correct proportions muscular and strong body type built for performance.
Continuously demonstrates well developed desire to please the handler. Friendly and out going personality.

CLARA'S PEDIGREE

To see more pictures of Clara click here



---
If you just can't get enough puppy pictures, you can see past litters at these links. Aslo CUSTOMER COMMENTS are listed on these pages

Back & Tesa Back & Tesa
Brook & Back Brook & Back Brook & Back
Back & Remmie Back & Remmie Nero & Remmie
Harley & Sasha Bronko & Sasha Esko & Sasha
Back & Gina Olex & Gina Esko & Gina Esko & Gina
Back & Stella Harley & Stella Olex & Stella Esko & Stella Esko & Stella Esko & Stella
Back & Hawana Back & Xara Esko & Reika
Back & Terra Olex & Terra Esko & Terra Esko & Terra Esko & Terra Esko & Terra Esko & Terra Nick & Terra
Esko & Reva Esko & Reva Tommy & Fiby Tommy & Fiby
Esko & Kalli Trigger & Kalli Esko & Kalli Esko & Kalli Tommy & Kalli Tommy & Kalli
Olex & Cat Trigger & Cat Esko & Cat Tommy & Cat Tommy & Cat Tommy & Cat Tommy & Cat
Tommy & Gitta Tommy & Gitta
Nick & OD Karo & OD
Tommy & Cassy
Tommy & Ziska Tommy & Ziska
Tommy & Biene Karo & Biene
Tommy & Exe Tommy & Exe Tommy & Exe Tommy & Exe
Tommy & Alexa
Tommy & Uny Tommy & Uny Tommy & Uny Jake & Uny Eddy & Uny
Kato & Esta
Frankie & Wusi also Kato & Wusi
Kato & Ira Kato & Ira
Tommy & Sankt Marko & Sankt Taggert & Sankt Kato & Sankt

---
FOR MORE INFORMATION on True Haus Kennels
or any of our german shepherd dogs:
james@truehaus.com
If you are an AOL user you will need to type my email address
james@truehaus.com
and not use the link to email
James Reed
2280 Louis Ave.
Oroville, Ca 95966
530-534-5678
We return all calls and emails the same day or no later then the next day. So if you do not hear from us, it is because we were unable to get your number off our answer machine. Or we did not get your email.
Please try again.