German Shepherd Dog
TRUE HAUS KENNELS
this is updates on Xina's pups
April 15, 2004
Dear Jim and Cindy,
On Sunday we were planning a casual Easter barbecue, and left the house to run to the grocery store to pick up a few last minute items. We were gone for only forty minutes, and you can imagine our surprise when we returned home to find Keana standing in front of the house. Our first thought was that she had somehow managed to slip out of the back yard, but we always keep the side gate padlocked and she has never escaped before. It took a few minutes before we realized that someone had tried to break into our house from the side gate, and that these intruders had removed the padlock. This is the interesting part of the story...Keana was playing in the back yard in the swimming pool at the time these people were breaking into the side of the house. From what we and the police have been able to piece together Keana heard these people attempting to enter our yard from the side gate and she chased after them scaring them away from the house, and preventing an Easter break in. The most amazing part of this story is that the "would be burglars" managed to shut the side door when fleeing from Keana although they were unable to re-padlock it. With a large German Shepherd is in hot pursuit I suppose padlocking our side gate was the last thing on their minds! Undeterred Keana ran into our garage, and managed to push the garage door open just high enough for her to crawl underneath it out into the front yard. We don't allow Keana to run off leash in front of our house, the street is much too busy, so we were so surprised to find that she didn't run away when she got out of the backyard. At the very least you would think that she would maybe stroll around the neighbors yards! But no, Keana was out in front "guarding" the house until her family returned. Our neighbors told us that they had seen her out front, but that she stayed right in front of the garage and would bark at anyone who attempted to come near our yard. For a dog that has never had any formal training outside of 3 months of obedience classes we were both surprised and pleased to see that our beloved Keana was not just protective of her family, but also of our home. We have always known that Keana is a special dog, but this incident really made it clear to us just how special our Keana is. It is also a testament to what an outstanding breed the German Shepherd is; instinctively loyal, brave, and protective. Thank you Jim and Cindy for the outstanding puppies you sell, in particular thank you for our special three year old "puppy" Keana. You would have been really proud of our little girl, she saved our Easter barbecue and still had plenty of energy to play fetch with the kids at the end of the evening!
Love,
The McKinney Family
March 5, 2003
the snow picture was taken 1-5-2005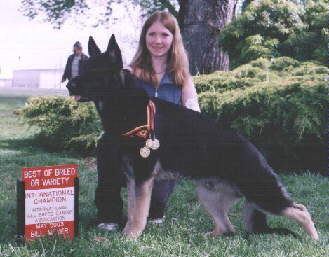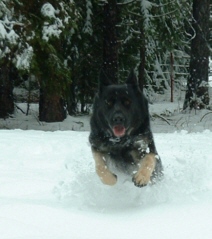 Dear Jim & Cindy
I have never thank you for my German Shepherd Dog. This pup has changed my life, habbits, Hobbies and Health. Thank You!!!
Good Job you realy know what you are doing. I also need to thank my Wife for spending so much time and Research in find the true German D.D.R lines that we wanted. I know my wife stays in good contact with you but. I think it's time to share his first year with you and all your German Shepherd follower that love and appreciate the DDR bloodlines that True Haus Kennels bring to people like me. We picked up our Shepherd pup at six and ahalf weeks old. Was very impressed at Jim and Cindy's kennels . We had drove down from Oregon and was quite excited about getting this dog. Fell in love with all of them but knew one was mine. The Black and Silver Male. From the time I picked up this pup he bonded to me, but was suppose to be for my wife, and at that second I knew I was going to have a problem. So we puchased another from a different litter for my wife. All the dog show people try to tell me that dogs bond to woman more than men. I laugh, just try and pry Zaran from my side. We planned to take this pup to only International Dog Shows and keep him away from American Judges in AKC. Because we thought that they wouldn't Judge the full German line but we were so wrong. International shows start pups at three monthes old and we were there. Best of Breed all three Shows. Zaran turned a lot of heads from Judges from all over the world and other breeders from Canada to Argentina. We knew on the long drive home that this was not just a standard Shepherd. The one common thing that all the International Breeders and Judges would comment on would be that he was from the Old Working lines and that it's time to bring that back into the American shows. Zarans next set of shows were at five months and this time their were alot more of his breed to show up against and he took Best of Breed again. Against two year old Champions this time. Witch turned him into a two time Champion, National and International befor he was six months old. We knew it was time to test his lines in the AKC so at six months to the day. He showed at an AKC eight cluster show and won eight First and three Reserves and oh my god if we had a experienced handler he would have went to Best in Show in his first AKC cluster of shows. I know I handled him and the Judge looked right at me and said that. Zaran at six months old had already shown up against over 100 shepherds and had walk away with all Best of Breed in the Internationals and First and Reserves in AKC. As we were driving home that day it was real quiet in the van and I looked over at my wife and she had tears coming down her face with a big smile and ask me? If I was ready to travel because there is no stopping him now and she wasn't kidding. After five thousand miles up and down the West Coast fuorteen Shows later Zaran holds Three Inter national Champion Titles and Four National Champoin Titles in the IABCA AND HAS Fourteen First and Three Reserves in AKC all as a pup in the first Twelve months. For the next six months we have Zaran scheduled in two more shows for IABCA and in the AKC he has two shows per month. We are proud of how this Old German Working Line is doing in the Breed Ring. But this bores the Intelligence of this dog. Tracking and Obedience will be in the cards for 2004.
Thanks so much Jim and Cindy
P.S. Watch for next years Champion Shows on T.V.because if he continues to show the world will know about you.
Mikel Dugas
Taggert & Xina pup in Washington
new picture 9-23-02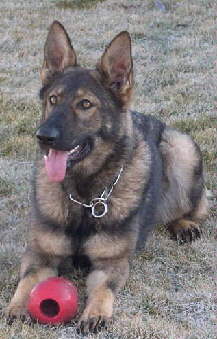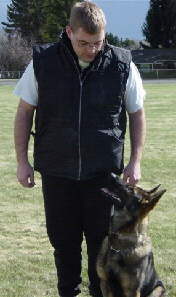 8-11-02
Hello,
I wanted to say thankyou for your response. I wanted to say Ina is a wonderful dog, I have a strong gut feeling that she is a dog for a century. I also wanted to say thankyou for such a great dog, she has gone beyond what we expected also Heather and I have discussed and agreed that you will have pick of the litter for what you gave us (thats several year away) or when she is bred to a male of your choice. I was at Wayne's and was told by Detlief ( a trainer you want to get to know) that I need to start working her in Schutzhund now. Again Jim & Cindy THANKYOU for the wonderful dog, don't sell Xina get a male out of her with Taggert for me (Scott & Heather) that is of same quality as Ina. I don't think you know how good she is, Ina is really good she is beyond what you say she is. Thank goodness I am able to train with Wayne Curry because if I was not this would be a waste of dog. Heather and I will try to get some good pictures of Ina but the problem is that she thinks humans are prey no matter who they are (except for a pregnant Heather) and I have not taught her this.
thankyou once again.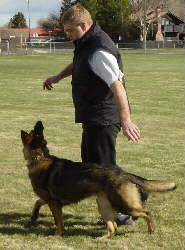 Scott & Heather Schnider
P.S.
You will want to see her when we start serious training, she is that good. She can do both Schutzhund and Police, I just know this.
July14, 2002
Taggert & Xina pup in West Virgina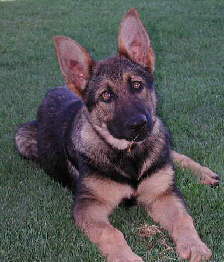 update
Just an update on Roxie. What can I say. She is a wonderful dog. She has been to school for obediance for a month now and we are easing her into it real slowly, she is doing fine. She is extremely active and therefor hard to handle at times but I don't mind. I have to tell you this, I don't beleave it myself. On our exercise walk today she climbed a rock cliff that was at least forty feet up and at least ninty five percent vertical! I went over to see how she did it. She jumped up on the rock where there was about a two inch ledge and on up she went fron there. She had seen a deer and was going to investigate. She is very strong and athletic! Where we walk is a wooded area. (Private Property) It circles our property and the path is three miles long with some radical elevation changes. I let her off her lead, she is very good to come back when called. She loves her walks and just runs and runs and runs. When you ask her if she wants to go walk, you should see how wild she gets. She loves it and it's good for her. It calms her down in the house.
She has had no accidents in the house and asks to go out when needed and I am sure she has got that down pat. She sits and stays very well. She is a baby though and her attention span is not long. That will come with time. She still trys to pull when on a lead but we are working on that. She cannot work when Justin is around because she totally spends her time on him. She loves him so much! Thank you again for her. She is truley everything you said and more. We are looking forward to many more years with her. Alfred and Lynn Justin Hurt, W.Va.


HOME
---
FOR MORE INFORMATION on True Haus Kennel or any of our dogs: james@truehaus.com
If you are an AOL user you will need to type my email address
james@truehaus.com
and not use the link to email


530-534-5678 James Reed

 THANK YOU FOR VISITING